Arctic Cat V-Twin
Locate Arctic Cat V-Twin parts and accessories for all models including the 650 V Twin ATV.

All types of Arctic Cat parts including genuine Cat parts and aftermarket acessories are available to make riding more practical and more fun. Arctic Cat V-Twin parts are available both online and from your local dealer, you as the consumer have decisions to make.
Finding V-Twin Parts
One of the benefits of buying powersports parts online has been the sales tax savings. It is important to note that sales tax laws are evolving faster than ever before, and you may or may not realize a savings on tax depending on where you live.

Most of us are already familiar with the tax environment, and most online powersports dealers are already compliant and attaching tax where necessary.

The other factor that must be considered is the shipping cost. This also varies among suppliers and can be a substantial expenses.

Many of the vendors will offer free shipping upon reaching a minimum order, savings can be achieved in this case by consolidating your parts orders, this includes anticipating a future wearable part and including it in a present order. This isn't always easy, but it is an option if you are looking to shop smart.

Then we have the choice of OEM versus the aftermarket products. OEM is essentially the recommended replacement part originally designed for your ATV (or Cat sled for that matter). Manufacturers will always recommend OEM replacement parts.

However, there are instances where the aftermarket products have actually improved on original engineering. Word of mouth and past experience with a certain aftermarket brand are two key factors in choosing the originals or the aftermarkets.
We have listed a few of the more popular part suppliers below. They are not listed in any particular order, and they all seem to offer a combination of OEM V-Twin parts along with an expanded aftermarket lineup of their products.
OEM V-Twin Parts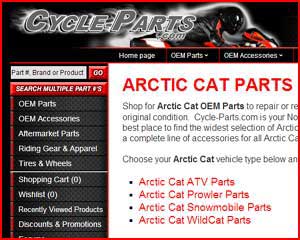 OEM and aftermarket Cat parts are available for the trail or track. They feature many aftermarket accessories as well as OEM, genuine Cat parts, parts can be selected from the online fiche very easily.
They also feature a variety of Arcticwear riding gear and apparel from the latest Arctic catalog. The Cat riding gear is durable and stylish, just like their 4 wheelers.
They also stock ATV tires from all the major brands for those who like fresh traction. They've been in the motorsports business since 1995, with a newly designed website and competitive pricing on all their parts and accessories. There are also coupon codes available from time to time to help you save some cash.
View the Factory Illustrations and Select: Start Your Search of Cycle Parts Now...
---
Cheap V-Twin Parts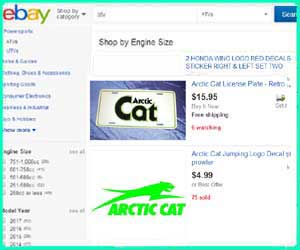 Search for new and used parts for all Arctic Cat V Twin 4 wheelers. Get great deals and also track down rare items. It's a great place to browse if you're looking for that elusive part or just a good price on clothing or riding gear.

They have added some useful features to the system including free local classifieds if you need to sell, and an email notification system which contacts you when a certain part becomes available. These are just some of the improvements to their already popular setup.

The available inventory is continually changing, Search the Current Listings.
---
Discount V-Twin Parts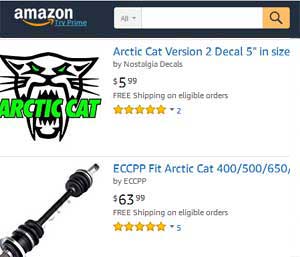 Amazon features stock repair parts for the Arctic Cat V-Twin ATV. They also stock a great line of apparel, trail, and track riding accessories from top brands like O'Neil, Thor, Fox, Moose, and many more.
Some aftermarket V-Twin parts are available as well including exhaust upgrades, luggage, racking, etc. They also feature discounted atv tires and even snowmobile jackets, gloves, helmets, and accessories if you choose to ride in the winter elements.
First choose your model, then view the products: Arctic Cat Super Store
---