ATV Magazines
We have listed some of the more popular 4 wheeler magazines on the market today. We have partnered with Magazine Agent and Amazon based on pricing and selection. An annual subscription to an ATV magazine starts at about $12 per year and goes up from there depending on the publication.
Print magazines are a great way to keep up with the ATV industry as it evolves. Printed media requires no batteries or software upgrades ever.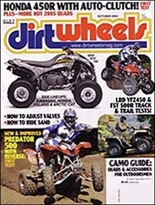 Dirt Wheels
Dirt Wheels Magazine has been the leading publication for all terrain vehicle fun for more than 12 years. Dirt Wheels covers all aspects of quad riding, from high-performance to family outings, and is the perfect guide to off-road ATV adventure.
This is a must-have publication for off-road people who are passionate about riding their ATV's. Every issue is filled with information on the newest machines, upcoming off-roading events, riding gear reviews, and up-to-the-minute industry news.
This is a monthly ATV magazine and it is sold by annual subscription.
---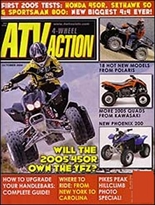 4 Wheel ATV Action
4 Wheel / ATV Action Magazine puts special emphasis on high-performance action. From cross-country to the speedway, you'll find plenty of quad articles relating to everything and anything ATV.
This is the perfect print publication for any four wheeler enthusiast. It covers all aspects of high-performance quads as well as 4x4 utility ATV's. The editorial content always includes in-depth race coverage as well as newly designed product reviews.
This is a monthly magazine and it is sold by annual subscription.
---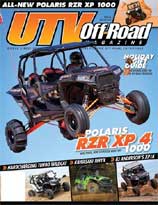 UTV Magazine
UTV Magazine is for those interested in the world of side by side quads. It is the premiere side by side UTV magazine on the market today.
If you are in the market for information on sport or utility UTV's, this would be the publication for you. Each issue brings many hands-on reviews of the 4 wheel UTV's, product news, and information on new technology and accessories.
They deliver in-depth vehicle reviews for the curious customer. There is also discussion of cutting edge custom vehicles. There are also plenty of articles detailing awesome trail rides, the newest side by side products, regional 4 wheeleing events, and just about anything in between.
This is a bi-monthly magazine and is sold by annual subscription.
---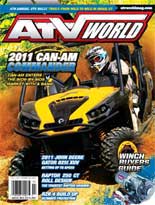 ATV World Magazine
ATV World Magazine is for those interested in the world of all-terrain vehicles. It is the premiere quad magazine if you'd like information on all types of ATV riding regardless of specific terrain.
They publish four issues per year and remain one of the largest ATV print magazines in Canada. Their elaborate editorial content features in-depth articles on farming, fishing, hunting, ATV tourism, and recreation.
Each issue brings various hands-on reviews of ATV's, product news, as well as information on new technology and must-have accessories.
This is a quarterly magazine and is sold by annual subscription.
---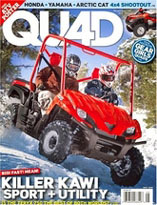 Quad Off Road magazine
Quad is your source for all info ATV. Each issue delivers multiple entertaining articles and in-depth profiles on the off road sport's latest and greatest personalities.
Quad product reviews, bike tests, and riding information ensure you know what to buy and how to ride. Each issue also includes a poster highlighting the best quad and offroad photography in the sport.
Their authors have managed to develop articles on specific four wheeler topics and keep the sport interesting during every season of the year. They focus on two wheel drives as well as the 4x4 quads.
Get Price and More Details... (sorry temporarily unavailable)