Dirt Bike Parts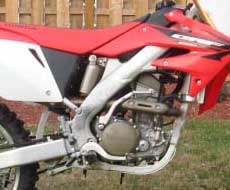 There are three classes of dirt bike parts featured here:
Aftermarket Parts
OEM Parts
Vintage Parts
You can locate dirt bike parts for all makes and models here. These are the more popular vendors available on the net.

There are links to parts fiche for OEM parts, but there are also many aftermarket parts available for increased performance as well as a selection of dirt bike riding accessories. You can also find some used or nos parts over at eBay for the vintage dirt bikes.
OEM Dirt Bike Parts
OEM Dirt Bike Parts They stock plenty of OEM and aftermarket dirt bike parts so they are available for immediate shipment. They sell the OEM dirt bike parts at a 20% discount over some of the other retailers and the savings can really add up quickly on the major repairs.

They also offer a tire configurator which is a very useful tool if you are in the market for tires and wheels for any dirt bike including dual purpose machines. Overall, they stock a wide variety of dirt bike products and are known to have speedy order fulfillment and a faster delivery than some of the competitors. This is a plus if you need to get back on the track or trail quickly.

Their print catalog and online presence make them one of the more familiar names in the powersports industry whether you ride a newer bike or any vintage ride.

View their Available Inventory: Start Your Search of Motosport Now...
---
Used Dirt Bike Parts
Search for new and used dirt bike parts through listings that pretty much chnage by the hour.

With some good timing, you can get great deals on items for older dirt bikes and track down rare items you can't find elsewhere. It's a great place to browse if you're looking for that elusive part or just a good price on dirt bike riding clothes, helmets, gloves, old brochures, and more.

They have added quite a few new features over the years and the whole system is much more than an auction site. They have an email notifiction system which will alert you when a certain item gets listed. This feature alone makes their site worthwhile whether you're a dirt biker or not.
View the Current Listings >>
---
Dirt Bike Magazines
Save on dirt bike magazines when you buy a subscription rather than buying individual magazines at the supermarket.

We've included the access to popular magazines because they are a great value and some of us are beginning to forget their existence.

You'll find a few choices of dirt bike magazines with tons of dirt bike articles and reviews for your reading pleasure. Subscribe today and stay up to date with today's hottest products and dirt bike industry news. There's also aselection of quad magazines as well.