Honda CB750 Parts
Locate stock parts for Honda CB750 street bikes featuring all the genuine honda parts to build an entire street bike from the ground up. Besides original CB 750 street bike parts, there are also aftermarket CB750 parts and accessories for all model years.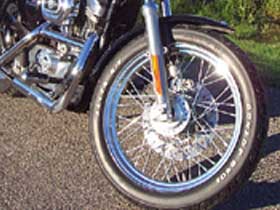 The CB750 street bike had a long production run. It was introduced in 1969 and rolled off the Honda assembly line until 2003. It was also available in 2007. This motorcycle was influencial over the years since it was the first 4 cylinder engine to be mounted to a bike from a large scale manufacturer.
Many CB750 street bikes still roam the roads of the world. OEM parts are still listed for sale on some powersports websites and there are plenty of used parts and aftermarket production parts available as well.
We have listed a few of the more popular part suppliers below. They are not listed in any particular order, and they all seem to offer a combination of genuine Honda parts along with an expanded aftermarket lineup of products. Most consumers will make their purchasing decisions based on availability first, followed by overall price including shipping charges and sales tax (where it is required).
---
OEM Honda CB750 Parts
OEM Honda CB750 street bike parts are almost always recommended when performing a general repair. Their website offers simple part selection either by make and model or by brand name, whether you're looking for original Honda parts, performance kits, aftermarket replacement parts, or your favorite CB750 accessories.
They stock original factory parts for all Honda CB750 street bikes dating back to the early 1970's.
Need Help with your bike? They've got Honda service manuals for those who need a bit of tech support. You can also expect free shipping on most orders in the USA with a minimum purchase of 99 dollars.
The Bandit is best known for their version of online microfiche. The parts fiche, (or parts diagrams) for the CB 750 as well as all other Honda models, are broken down into sections or systems. The exploded diagrams are easy to navigate even on the small screen of a phone.
View their Available Inventory: Start Your Search of Bike Bandit Now...
---
Select from factory OEM and aftermarket CB750 parts for the street or track. Aftermarket and oem parts are available from factory diagrams as well as a variety of riding gear and apparel to complement your ride.
They've been in the motorsports business since 1995. They have a newly designed website and competitive pricing on all their parts and accessories. It is worth mentioning that they do post coupon codes on their website, check the site for details or specials.
Select from: OEM Parts | Tires and Wheels
---
New and Used CB750 Parts
New and used Honda parts and accessories available from various private and professional sellers.
They offer a wide variety of street bike helmets, street bike apparel, and quality metric street bike parts. There's a fine selection of typical wearable parts including brakes, chain and sprockets, exhausts, tires, batteries, and much more. Everything is here for your street-biking adventure including a wide array of used CB750 parts.
As their system keeps evolving, they continue to offer more useful features. Local classifieds are free within a certain radius of your home zip code for those looking to sell a bike. There is also an email notification system which will notify the user automatically when a certain part or desired item becomes available. These are just a few of the newer features over at the 'bay.
The available inventory is continually changing, Search the Current Listings.
---
Genuine factory Honda parts are virtually always recommended by the manufacturers.
Select factory original street bike parts for basic repair or major overhaul from most of the major names including Honda. The genuine parts fiche is easy to read and interpret therefore adding to the ease of parts ordering.
OEM parts are critical to the function of your CB750 as it was originally designed. Check the appropriate diagrams for your specific model to view the availability of the required street bike parts.
Select parts from Honda factory diagrams at Carbondale Powersports.
---
They offer free shipping on all orders over $39.99 and they never charge a restocking fee on returned merchandise.
Combine these perks with an outstanding selection of products and you have a win-win situation for any motorcyclist. They carry over 100,000 products of the best motorcycle brands making this the ideal online establishment where Honda owners and motorcyclists can find and buy just about anything motorcycle-related at low prices.
Some of their listed parts are American made which is always a good thing. The more popular Yamaha products listed on their site would be the seats, the exhausts, the bars, and the tires. They are physically located in Philadelphia, Pennsylvania but ship nationwide.
Fortify your bike, check pricing on parts: View All Available Street Bike Parts