Used Quad Parts
Sometimes tracking down used quad parts becomes the only way to get your machine back on the trail. This can be the case with a vintage 4 wheeler or it can be the case when budget is a concern.
One of the benefits of buying quad parts online has always been the sales tax savings. It is important to note that sales tax laws are evolving faster than ever before, and you may or may not realize a savings on tax depending on where you live. Most of us are already familiar with the tax environment, and most online powersports dealers are already compliant and attaching tax where necessary. Private sellers may or may not attach sales tax to the price.
The other factor that must be considered for any new or used part is the shipping cost. This obviously varies among suppliers. Many of the vendors will offer free shipping upon reaching a minimum order, savings can be achieved in this case by consolidating your parts orders, this includes anticipating a future wearable part and including it in a present order. This isn't always easy, but it is an option if you are looking to shop smart.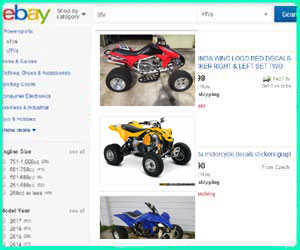 Search for both new and used quad parts. This is typically the primary recommendation for someone in need of a rare or used part. The system is home to thousands of registered sellers. This includes professional businesses as well as private parties. In many cases, individuals are selling used parts from a 4 wheeler that is being parted out.
As for eBay itself, they have added some useful features to the system including free local classifieds if you need to sell, and an email notification system which contacts you when a certain part becomes available. These are just some of the improvements to their already popular setup.
Overall, this option is the equivalent to an online nationwide salvage yard and should always be considered in the hunt for quad parts. You may even stumble on discount priced new parts as well.
The available inventory is continually changing, Search the Current Listings.
---
Listing of 4 Wheeler Salvage Yards
Your next option for the part that continues to elude your grasp is contacting 4 wheeler salvage yards. There are quite a few of these and they are located throughout the country with a few choices in Canada as well.

It may take some detective work on your behalf but if you're lucky you will come out ahead in the end. We have included telephone contact info for most and will add available web addresses to the list in the near future.

Good luck and happy hunting...

Alabama

Midway Cycle Salvage
Madison, AL
Phone: 256- 233-3821

Cycle Matrix
Montgomery, AL.
Phone: 334-269-4586
Toll Free: 800-766-3791

Arizona

Cycles, Skis & ATVs
Tucson, AZ.
Phone: 520-747-8339

Arkansas

Arkansas Wings Cycle Center
Little Rock, AR
Phone: 501-562-0302
Toll Free: 888-562-0302

California

Neanderthal Cycle Salvage
Bloomington, CA
Phone: 909-874-6590

North County Motorcycle Center
Escondido, CA
Phone: 760-746-7467
Toll Free: 800-321-2453

Regeneration Cycle
Perris, California
Phone: 909-674-4889

Colorado

Franklin Cycle Salvage
Greeley, CO
Phone: 970-352-6996

Florida

Summit Offroad
Starke, FL
Phone: 904-964-1496

Dave's USA ATV Used Parts
Homosassa, FL
Phone: 352-628-2084

Georgia

-

Steve`s Cycle Salvage INC
Tifton, GA
Phone: 229-386-8666
Toll Free: 800-622-9253

Cycle Rama Salvage
Canon, GA
Phone: 706-356-1030

Illinois

S.S. 2 WHEEL
Lovington, IL
Phone: 217-873-8356

Indiana

PartShark
Martinsville, IN
Toll-Free Phone: 877-999-5686

Kansas

OZ Powersports
Ottawa, KS
Phone: 785-242-0600

Kentucky

McDonalds Motorcycle Repair
Liberty, KY
Phone: 606-787-7560

Maine

Maine Cycle Salvage
Auburn, ME
Phone: 207-783-7349

Massachusetts

All Terrain Cycles
Upton, MA
Phone: 508-529-0200

Cycle Pros Salvage
Bridgewater, MA
Phone: 508-697-2611

Michigan

Orchard View Powersports
Greenville, MI
Phone: 616-754-1797

Slick`s Great Lakes Salvage
Mason, MI
Phone: 517-676-0583

Minnesota

Sport Wheels
Jordan, MN
Phone: 952-492-2715
Toll Free: 800-821-5975

Missouri

Alamo Enterprises
Van Buren, MO
Phone: 573-945-2489

Fifty Hiway Cycle
Holden, MO
Phone: 816-405-2003

Hargiss ATV
Ironton, MO
Phone: 573-546-0421

Montana

Bikeboneyard
Florence, MT
Phone: 406-240-5749

New Hampshire

Argo Cycles & Auto
Raymond, NH
Phone: 603-645-0010

New York

Cycle Therapy
New York, NY
Phone: 212-828-2575

Wanted Dead or Alive ATV
Syracuse, New York
Phone: 315-383-3706

North Carolina

Smith Cycle Salvage
Bladenboro, NC
Phone: 910-770-0398

Pennsylvania

East Coast ATV
Coopersburg, PA
Phone: 610-282-0369

Rhode Island

Erien"s Small Engine Service
Pawtucket, RI
Phone: 401-725-7379
Toll Free: 866-586-4609

South Carolina

M.I.D.S. Cycle Salvage
Sumter, SC
Phone: 803-773-3535

Tennessee

Irby's PWC Salvage
Pike, TN
Phone: 615-331-3008

Texas

Bates Used Cycle Parts
Copeville, TX
Phone: 972-694-2373
Toll Free: 800-822-1465

Northend Cycle Salvage of Beaumont
Beaumont, TX
Toll Free: 800-428-7821

South Park Cycle
Beaumont, TX
Phone: 409-835-3900
Toll Free: 888-832-9253

Washington

Independent Cycle Salvage
Spokane, WA
Phone: 509-217-1983

West Virginia

Lemon & Barrett`s ATV Cycle & Specialties
Mineral Wells, WV
Phone: 304-489-1377

Wisconsin

Art`s Snowmobile Salvage & ATV
Cornell, WI
Phone: 715-288-6863

Jim's ATV Salvage
Porterfield, WI
Phone: 715-789-2906

Milwaukee Cycle Salvage
Milwaukee, WI
Phone: 414-466-7707
Toll Free: 800-359-6014

Ontario, Canada

Bent Toys
Redbridge, Ont. Canada
Phone: 705-663-1366

Peterborough Cycle Salvage
Peterborough, Ont. Canada
Phone: 705- 742-6120
---








See Also: Used Dirt Bike Parts | Used street bike parts