KTM Dirt Bike Parts
There are almost always choices between the OEM and the aftermarket products. OEM is essentially the recommended replacement part originally designed for your dirt bike. Manufacturers will always recommend OEM replacement parts.

However, there are instances where the aftermarket products have actually improved on original engineering. Word of mouth and past experience with a certain aftermarket brand are two key factors in choosing the dirt bike originals or the aftermarkets.

Locate KTM dirt bike parts for all models and years. You'll find parts for all models including the SX, EXC, the Adventure, Mini, Senior, Duke, Supermoto, Super-Comp, and others for the KTM lineup. These vendors also supply aftermarket racing parts and accesories, various dirt bike products, and riding gear.

We have listed a few of the more popular choices for KTM dirt bike parts below. They are not listed in any particular order and each has its advantages depending on your specific situation.
OEM KTM Dirt Bike Parts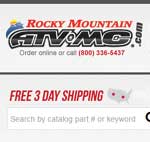 Rocky Mountain is a multi-line bike and quad dealer, offering Can-Am, Honda, Kawasaki, KTM, Polaris, Suzuki, and Yamaha bike and quad parts online.

OEM KTM bike parts are priced at or below your local dealer's prices. They actually guarantee it; if you find a lower advertised price from any authorized U.S. dealer on an in-stock product, they will match it. You can see the details on their site.
As for shipping cost, they charge a $7.00 flat rate for orders under $75, beyond the 75 dollar threshold, your order ships for free.

Rocky Mountain is best known for the convenient parts fiche. The KTM parts diagrams (as well as all other models), are broken down into sections or systems. The exploded diagrams are easy to navigate even on the small screen of a phone.
View their Available Inventory: Search Rocky Mountain ATV...
---
New and Used KTM Dirt Bike Parts
Search for new and used KTM dirt bike parts for all model years. Both two stroke and four stroke KTM's are common here with parts listed from a variety of sellers.

You may just get some deals or track down a rare item. This has always been a great place to browse if you're looking for that elusive part or just a good price on clothing or riding gear.

They now have a very useful email notification system which will contact you by email if a certain part gets listed. This is a handy feature.

The listings are constantly changing, View the Current Listings
Discount KTM Dirt Bike Parts
---

KTM dirt bike gear, parts, and aftermarket accessories listed at very cometitive prices.

This is the powersports shopping venue that can make dreams come true. They are headquartered in Seattle, Washington with fulfillment centers and warehouses around the country which makes for faster delivery in many cases.

They list motorcycle and atv parts at great prices and their listing of riding gear is far-reaching in regards to sizes and styles. Pricing is second to none on most of these items, just watch the fine print for shipping details and sales taxes.

Whether you enjoy racing the track or riding the trails, there's name brand street bike, dirt bike, and atv parts, gear, and accessories to make your riding a little more enjoyable and and lot more safe.

Select your model, then view products: View All KTM Dirt Bikes
Dirt Bike Magazines
---
Save Big on Dirt Bike Magazines. You'll find ATV, snowmobile, street and dirt bike magazines. Subscribe today and stay up to date with today's hottest products and industry news.

Who knows, you may even see an occasional article on the latest models of KTM dirt bikes.
---
See Also: Shop for Parts by Make | KTM Photos | Dirt Bike Parts | KTM Quad Parts | 105SX Parts | 125SX Parts | 200XC Parts | 250SX Parts | 50 Mini Parts | 50 Senior Parts | 50SX Parts | 65SX Parts | 85SX Parts | 450SX Parts | 525XC Parts | 125EXC Supermoto Parts | 200EXC Parts | 250EXC Parts | 300EXC Parts | 400EXC Parts | 450EXC Parts | 420 Super Competitor Parts | KLR450 Parts | 520 Super Competitor Parts | 420 Competitor Parts | 50 Junior Adventure Parts | 250XC Parts | 400XC Parts | 450XC Parts | 250SXF Parts | 505SX Parts